The first annual Aggies Leading the Way! Undergraduate Leadership Conference was held on February 7 and 8, 2014.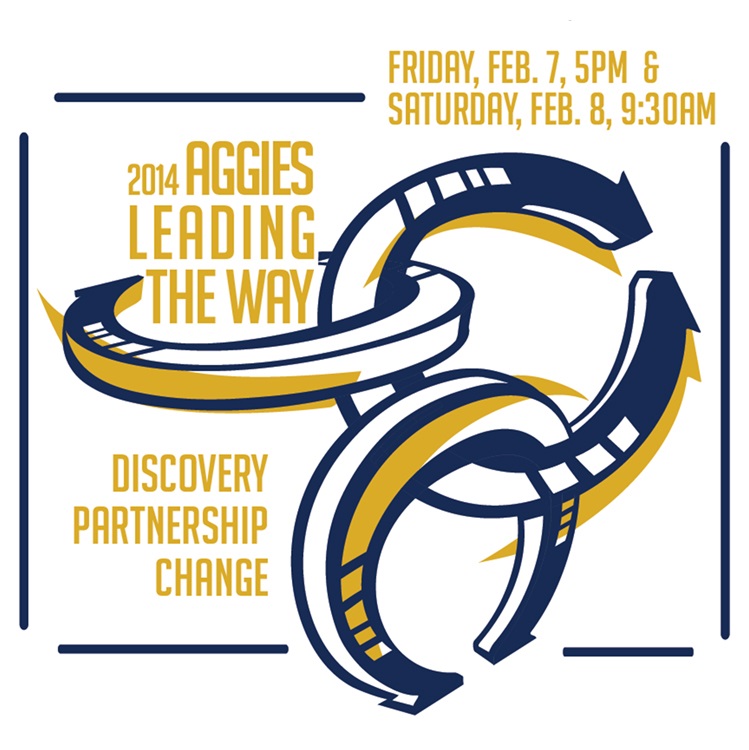 Conference Mission
This 2014 conference theme was Discovery, Partnership, Change. Through a variety of interactive workshops, the aim was to help students:
Discover their leadership capacity
Create peer-to-peer partnerships
Create positive change in their community
Keynote Speakers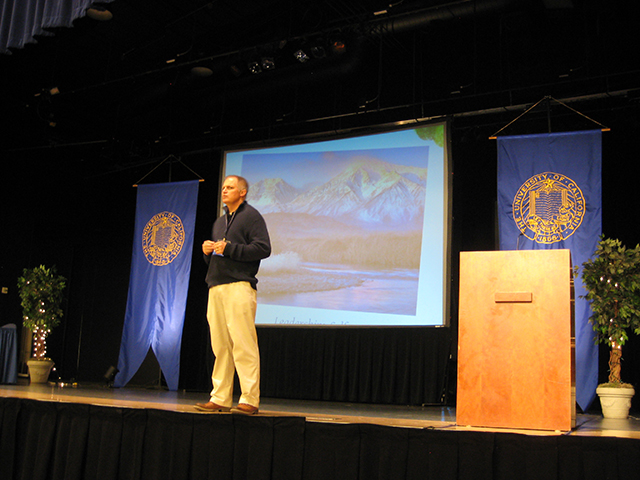 The Keynote Speaker for the rally was Ralph J. Hexter, Provost and Executive Vice Chancellor.
The Keynote Speaker for the main conference was Richard Engel, Assistant Vice Chancellor - Alumni Relations & Executive Director - California Aggie Alumni Association.
Main Conference Workshop Areas
Discovery (Session 1)
Session 1 workshops focused on helping students develop skills to bring success and growth in college and beyond. Students learn more about managing themselves and maximizing their potential.
Workshops:
The Culture Bump: How Cultural Differences Lead to Discovering Human Commonalities by Moira Delgado
Finding Balance by Olga Prizhbilov
Wellness Jeopardy by Lindsay Wetzel Polin, Natasha Fowler, and Shawna Branchev
Walking Your Talk: The Value of Credibility in Leadership by Jenn Crowder
Navigating the Transition from Student to New Professional by Natasha Vyakhk
Partnership (Session 2)
Session 2 workshops focused on helping students connect and communicate with others. Students will learn how to interact with others to create positive relationships between all members of a team in any setting.
Workshops:
Coaching to Improve Leadership Outcomes by Ahmed Naguib
The Culture Bump: How Cultural Differences Lead to Discovering Human Commonalities by Moira Delgado
Feedback: How to give it, how to receive it, and how to make it work for you
How to Be an Influential Leader by Richard Osibanjo
The Color of Your Personality and How to Make the Best of It by Olga Prizhbilov
Change (Session 3)
Session 3 workshops focused on helping students gain an understanding of initiative and inspiration and how they can make a difference in the community. Students will be able to invest others in living a life of positive change and service.
Workshops:
Handling the Unexpected: How to enhance your flexibility and adaptability by Christie Navarro
Igniting the Socialpreneur Within by Richard Osibanjo
One Can Make a Difference - Getting Involved with Community Service by Amrit Sahota
The Personal is Political: Reflecting on identity and turning passion into action by Elizabeth Coté
Strong Group Leadership: You Can't Do It Alone by Heather Prandini and Thomas Witcher
Conference made possible through a partnership between Undergraduate Education and the Division of Student Affairs and funds generated by ATM Campus Agreements.