The Center for Leadership Learning (CLL) aims to educate and cultivate the next generation of leaders who have a strong sense of self-awareness, have the ability to work effectively with others, and who are civically and socially engaged.
The CLL strives to meet its mission through a variety of curricular and co-curricular programs which are open to every undergraduate student.  The CLL provides undergraduates a unique opportunity to formally learn about leadership and professionalism, while receiving invaluable, hands-on training that will assist them for a lifetime.
The CLL welcomes students from all majors, class levels, and degrees of leadership experience who wish to enhance their personal lives and the lives of others.

Guiding Principles
Through a variety of researched-based leadership theory and models, the Center for Leadership Learning utilizes the following principles to guide their leadership education:
Leadership is an academic discipline that can be taught and learned
Leadership is interdisciplinary and merges theory and practice
Leadership is a process that is not solely defined by position, title or authority
Leadership is ethical and just     
Leadership is collaborative and inclusive 
Leadership can be practiced, applied, and demonstrated by everyone, everywhere
Leadership is purposeful that serves the common good – socially, civically, globally and environmentally
What is Leadership?
Leadership is much more than title and position, telling others what to do, or having authority and power. Leadership is about having purpose, both as an individual and group, and intentionally making a positive difference. Leadership can only occur when each of the following components are fully functioning together.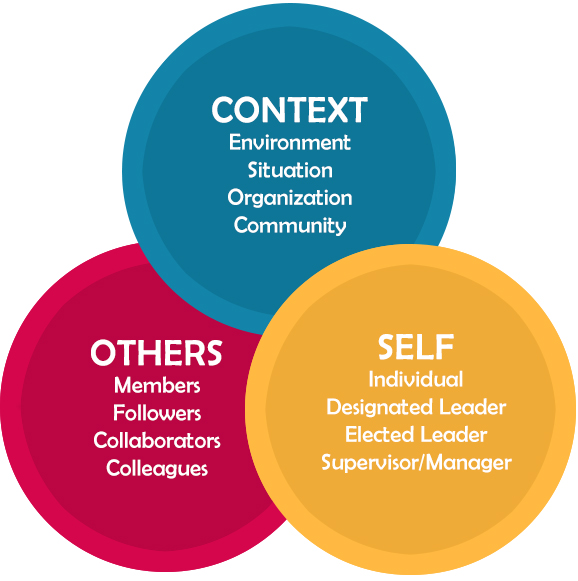 Guiding Theory, Research and Literature
The Center for Leadership Learning's approach to leadership education infuses theory and research-based models adapted from the following literature:
Burns, J. M. (1978). Leadership. New York, NY: Harper & Row.
Council for the Advancement of Standards in Higher Education. (2006). Student leadership programs. CAS professional standards for higher educa­tion (6th ed.; pp. 320-328)). Washington, DC: Author.
Komives, S. R., Lucas, N., McMahon, T. R. (2013). Exploring leadership: For college students who want to make a difference (3rd ed.). San Francisco, CA: Jossey-Bass.
Komives, S. R., Owen, J. E., Longerbeam, S, Mainella, F. C., & Osteen, L. (2005). Developing a leadership identity: A grounded theory. Journal of College Student Development, 6, 593-611.
Northouse, P. G. (2007). Leadership theory and practice (4th ed.). Thousand Oaks, CA: Sage
Rost, J. C. (1991). Leadership for the twenty-first century. Westport, CT: Praeger.
Shankman, M. L., & Allen, S. J. (2008). Emotionally intelligent leadership: A guide for college students. San Francisco, CA: Jossey-Bass.