Build your foundational framework of leadership practices!

LEWS consists of six topical workshops for undergraduate students; take just one, or as many as you would like to best address your interests and goals*!  Each will be offered multiple times throughout the year.
The six workshop topics are on foundational knowledge, self-awareness, communication, diversity dimensions, group development, and conflict. Visit the links on the right to see our Workshop Calendar and to review full descriptions of each workshop topic.
 
Why Attend?
 
Strengthen your leadership skills and knowledge
Increase effectiveness within your jobs, student groups, programs, classes, and personal life
Build peer and mentor connections
Workshops are open and free of charge to all UC Davis undergraduate students
 
*All six workshops are required as a prerequisite for the CLL Student Leadership Development Program (SLDP).
     SLDP

New for 2018-2019: the CLL Rewards Program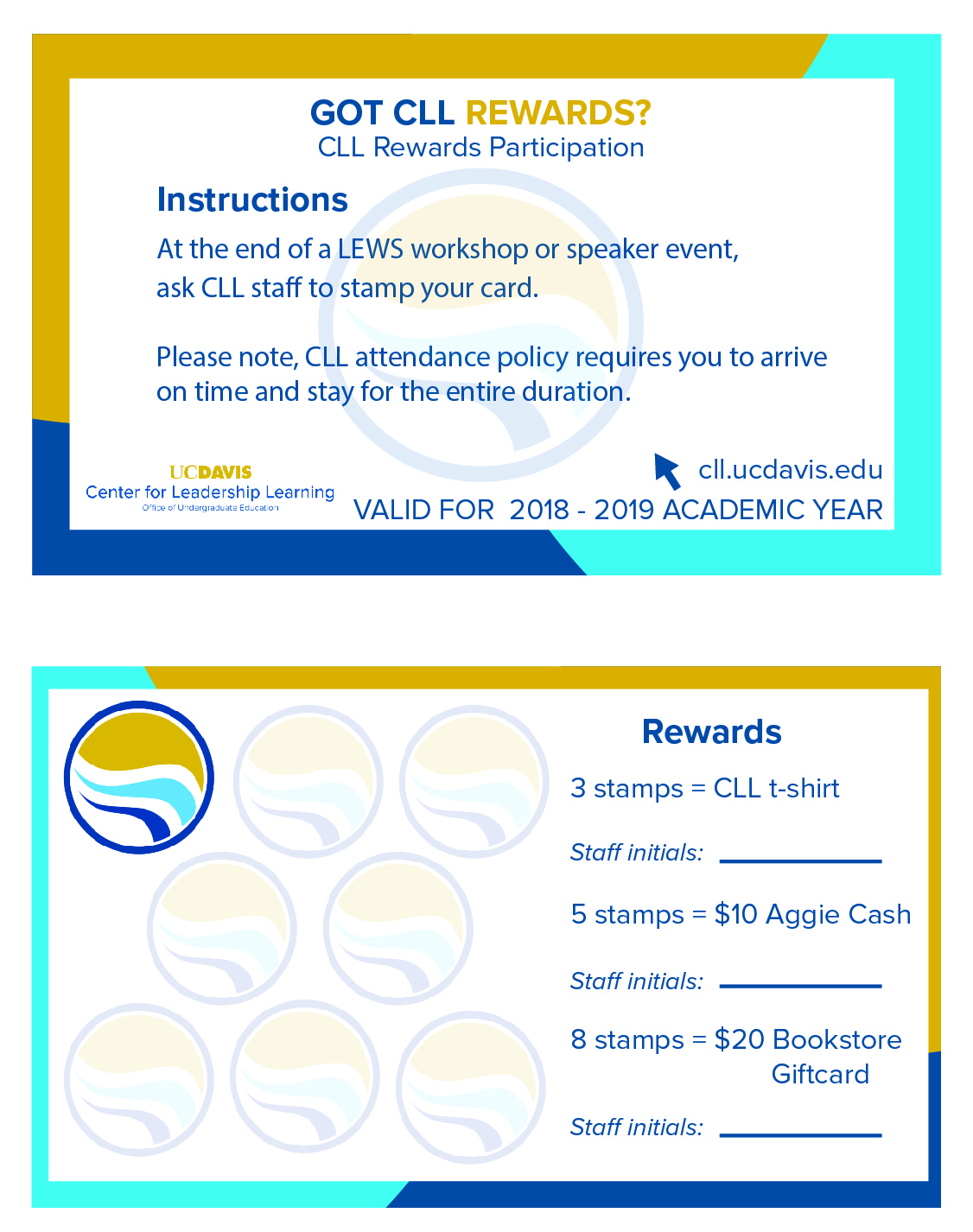 In addition to all the benefits listed above, students can now receive rewards for attending LEWS workshops or Leader to Leader Speaker Series events!
Pick up a rewards card at either of these types of events or by stopping by the CLL Office in 1350 The Grove. At the end of a LEWS workshop or speaker event, ask CLL staff to stamp your card.
The reward for 3 stamps is a CLL t-shirt
The reward for 5 stamps is a $10 Aggie Cash
The reward for 8 stamps is a $20 Bookstore gift card
Cards come with one space already stamped!
Please note, rewards cards are valid for the 2018-2019 Academic Year and CLL attendance policy requires you to arrive on time and stay for the entire duration of the event.
The CLL strives to make our workshops and programs accessible to the undergraduate community. If you need accommodations, please email us.
     Email Us