DLDP Community Engagement Projects 2022
Learn about the different ways our DLDP students applied their understanding of differences, improve their ability to address complex issues through projects, and cultivate an inclusive environment in an organization or workplace!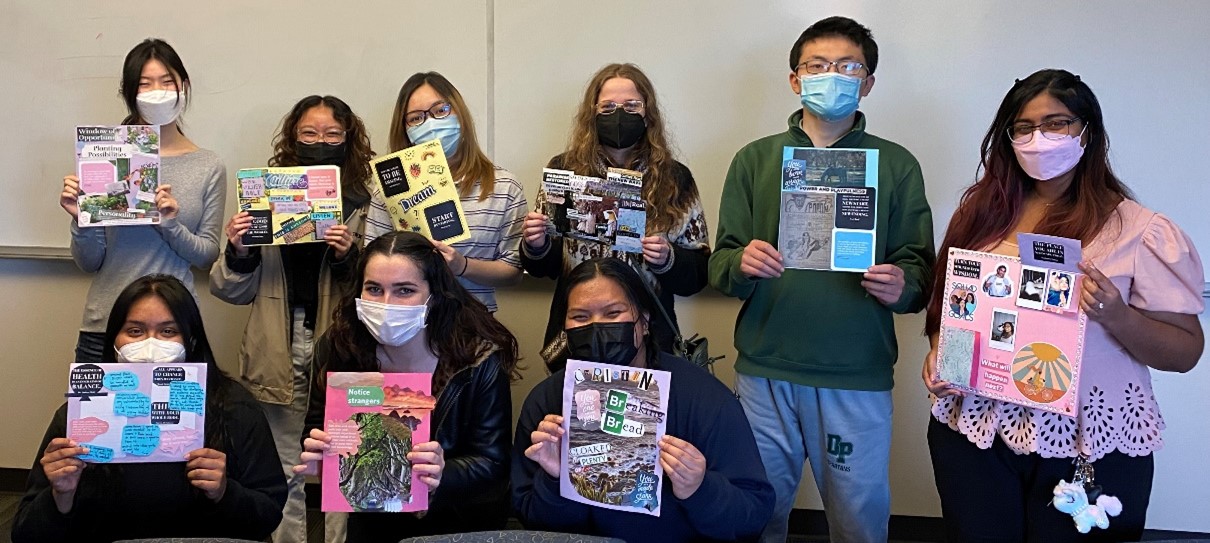 Individual Projects
Economic Inequality – Research Project
Jinguang conducted a research project to explore reasons for the imbalance between the different classes in the world. Through readings and research Jinguang found that poor people are hard to enhance because the rich people make rules for the enhancement harsh. The rich people are trying to lock the poor people in their class with less support and resources. He would like to do a deeper reading of the old sociologists to find the change of the social structures for more truths.
Elastic Minds - Blog Creator
The purpose of Priya's blog was to be a safe place to read about 'life lessons' and share anonymously problems students at UCD were facing. Whenever Priya posted a blog they shared it to UCD groups and received positive responses and some even reached out to them to share similar experiences they had had. Overall, Priya enjoyed creating the blog because it allowed them to share information, stories, resources, and provide a safe place for the Davis community to reach out for help.
Internship & Volunteer Positions
Abiding Hope – Volunteer Counselor
In their applied experience Neina worked at a respite home. This is a community program that provides a temporary housing option for those who are homeless, recovering from addiction, or are overwhelmed by their mental health. Neina encountered many different people of different backgrounds, who in society are stigmatized or oftentimes forgotten. Neina helped provide a space for them to recuperate, find housing, obtain financial assistance, or resources into programs more targeted to their conditions so they can take control of their health and life. Neina counseled people who felt downtrodden or regretful by offering words of affirmation and just listening to their stories. Clients knew given Abiding Hope's confidentiality and nonclinical staff that there would be no conflicts of interest with either their doctors or social workers so they could speak freely. Neina learned from they can empower people through listening, validating their journey and purpose, and providing resources.
YoloCares – Hospice Volunteer
When Emma applied as a volunteer for YoloCares, their intention was to gain experience in a hospice environment applicable for their future career. Emma wanted to work face-to-face with people in need so that I could give back to my community directly. I felt immediately included as part of a team of diverse professionals--nurses, caregivers, counselors, social workers—who come together to create plans of care for older adults facing the end-of-life or who otherwise were isolated and needed community resources. Coming into individuals' homes as a stranger often felt intimidating but their appreciation just of my presence was very encouraging. The time I spent with the patients and palliative care clients allowed each of us to leave a positive impact on the other's life and helped me feel more connected to my community.
VN CARES – Clinical Intern
San served as a clinical intern at VN CARES, a UC Davis student-run clinic. During their time in DLDP, San was encouraged to apply to become a clinical manager for VN CARES and was accepted. San was able to apply knowledge learned from DLDP to create an inclusive environment for the interns they supervised. This helped the clinic run efficiently and meet their goal of supporting diverse patients from different backgrounds and socioeconomic statuses.
Cub Support – Volunteer Tutor
Hannah was a volunteer tutor for Cub Support, an organization dedicated to providing academic support for students K-12 from underserved communities. She was able to create and organize plans, contact parents, and host sessions for students who had to adjust to virtual learning through the pandemic. Hannah believes DLDP helped her recognize the importance of acknowledging the diversity within the communities she works with to promote open dialogue and inclusive spaces to encourage learning and growth.
Global Ambassador Mentorship Program – Mentor
Helena participated in an internship program called the Global Ambassador Mentorship Program.  As a mentor to incoming international students, Helena helped them build a better community in Davis. For Helena, being a mentor was about providing a better community to others and fostering a sense of inclusivity throughout the community. Known that starting college can be a very nerve-wracking experience for all students, no matter where they come from, and Helena wanted to help provide a solid support system as students adjust to Davis life. The DLDP program was very useful for Helena's internship experience, as they learned how to navigate diverse cultures, create a space for vulnerability, and became a better ally to those who are different from them.