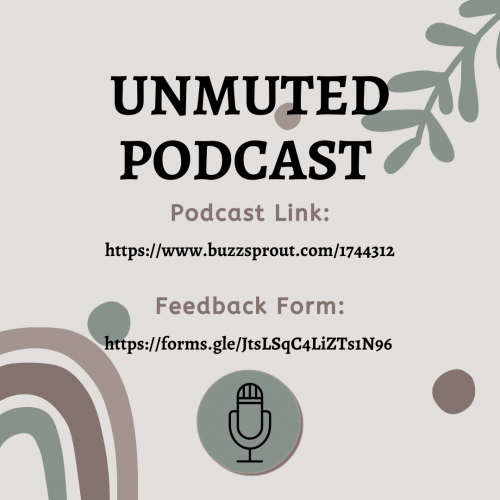 Unmuted Podcast
Purpose of Unmuted
The purpose of this podcast is to bring awareness to this new challenge that has been affecting many individuals. We want to raise awareness on zoom burnout by sharing the experiences of UCD students and staff as well as providing useful tips and resources to combat this challenge. 
Why did we start this podcast? 
We realized not much was being said or done about this issue on campus. Even though it is relatively new, most folks are being impacted by this, therefore, we felt the urge to acknowledge it and ensure we created a safe and inclusive space where people are welcome to talk about it. 
What do we want students to know about this? 
Mainly, we want students to know this is a safe space where they can share their experiences with zoom burnout. We recognize that everyone is experiencing zoom burnout differently. As a result, we want students to share their experiences as well as their coping strategies. This way, others who listen to the podcast are able to relate and implement some of those tips and strategies to their daily routine

Listen on Buzzsprout
Listen to the Unmuted Podcast on Buzzsprout
​​​​​

Listen on Youtube
Listen to the Unmuted Podcast on YouTube

Listen on Spotify
Listen to the Unmuted Podcast on Spotify


View related UC Davis events and resources
Check out our google doc compilation of UCD resources available to all students.  Find links to different services each resource offers as well as specific Spring Quarter events.

Let us know your feedback
Share your feedback, experiences, or tips for our next podcast!
Brought to you by M.I.N.D.
The Mentally Inspirational and Nourishing Division,
a student group of the Student Leadership Development Program
Meet BRYANNA SHU

👏🏽

• Major🐮: Cognitive Science, 4th year
• Fun Fact💡: Two summers ago, she learned how to ride a motorcycle! 🏍
• Bryanna shares 💬, "Mental health is an important topic to me because it is something I try to pay attention to the people around me. With the pandemic happening, I understand how more than ever that people can be struggling with feelings of isolation and burnout. My goal is to reach out to as many people as possible to share the message: YOU ARE NOT ALONE." 💛
• Looking forward: to sharing and learning exciting ways to relieve zoom burnout. Hope you are too! 😊

Meet ANGELINA TRAN

👏🏽

• Major 🐮: Biochemistry & Molecular Biology, 1st Year
• Fun Fact💡: Her favorite animal is a pig🐷
• Angelina shares 💬, "I am quite new to the concept, but I want to stress the importance of taking time for yourself and making sure that you put your mental health first." 💙
• Looking forward: to be able to normalize zoom burnout in this new era of technology and with the pandemic. I want to make it possible for everyone to be open about any struggles they are going through and be able to take care of oneself with any available resources!

Meet RAHUL GEORGE

👏🏽

• Major🐮: Computer Science and Engineering, Mathematics (general), 2nd year
• Fun Fact💡: Rahul played Kahoots with THE Chancellor Gary May for a class 💻
• Rahul shares💬, "For some individuals, it's so easy to underplay or don't mind mental health but it's an important aspect of your overall health and I do see how this new virtual environment is highlighting that. I've been able to practice some self-care methods like journaling or surrounding myself with my family and friends that helped me cope."
• Looking forward: to hearing other perspectives and sharing mine in this podcast. I'm sure throughout the process I will be learning a lot and that is fun for me. 😊

Meet GRISELDA CERVANTES

✨

• Major🐮: Sociology & Spanish, 4th year
• Fun Fact💡: Her favorite form of self-care is doing yoga 🧘🏽‍♀️
• Griselda shares💬, "Once I recognized the importance of mental health, I began to prioritize this over everything else. It was definitely a hard process at first, but it made a huge impact in both my personal and professional life."
• Looking forward: to sharing my experiences as well as learning from you in the process!