UC Davis undergraduate students can now win prizes and rewards for attending the free events hosted by the Center for Leadership Learning! The CLL has created a reward program to further incentivize students to learn the important values of leadership by attending the Leadership Essentials Workshop Series (LEWS) and the Leader to Leader Speaker Series during the 2018-2019 school year.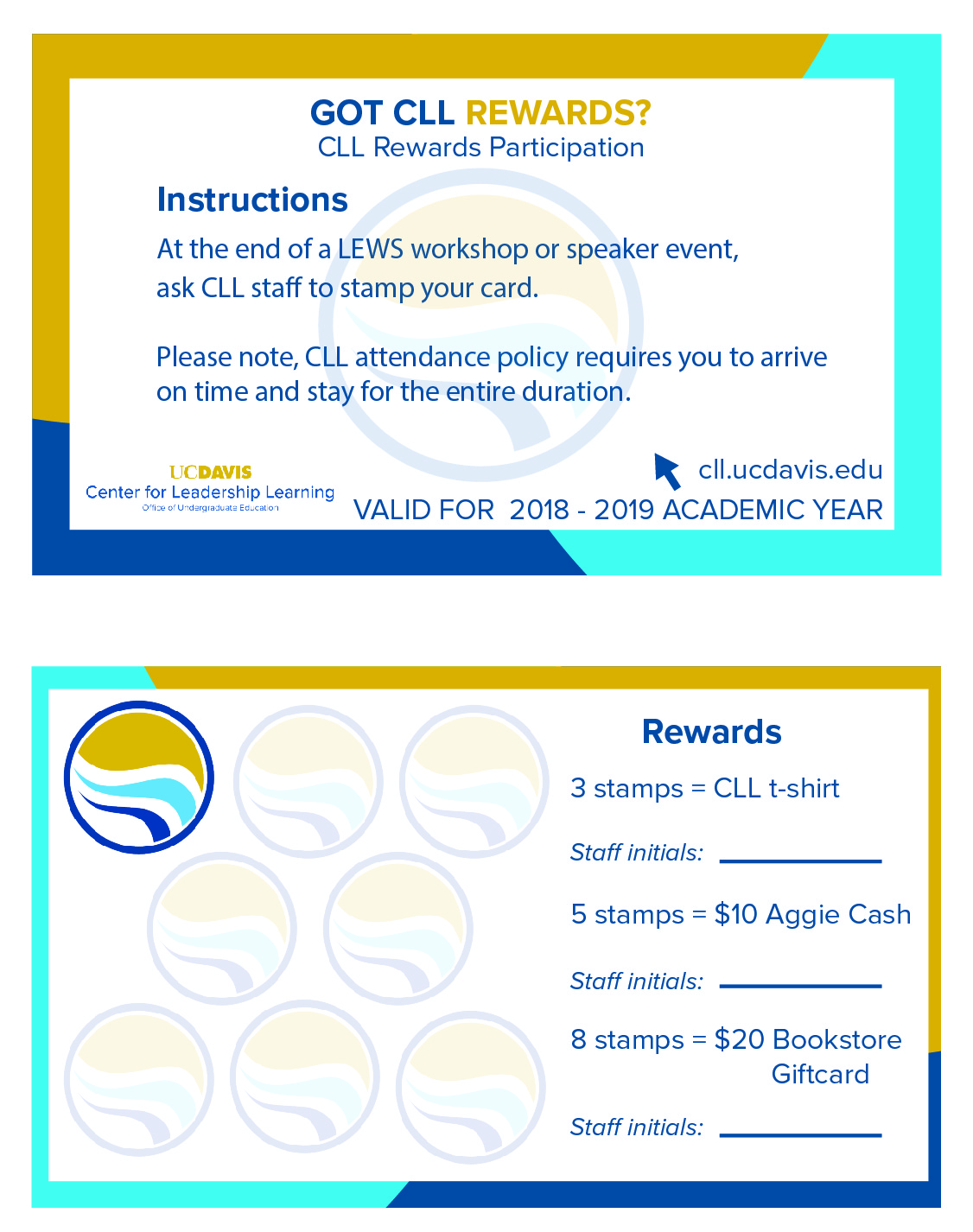 Along with the benefits of strengthened leadership skills, gaining knowledge about specialized subjects such as conflict management or dimensions of diversity, building peer connections, and learning how to navigate the workplace environment, students have the opportunity to earn tangible rewards as well. The reward program functions as a stamp card, similar to those seen at Boba tea and frozen yogurt shops around Downtown Davis. Following the completion of an event, students will receive a stamp for the workshop or speaker series they attended.
Rewards include:
A CLL t-shirt for 3 stamps

$10 Aggie Cash for 5 stamps

A $20 bookstore gift card for 8 stamps
Students do not have to wait long to earn a prize because their first stamp is free! This reward program is not a raffle; students are guaranteed prizes so long as they have the correct amount of stamps to claim their prize. CLL Director, Christie Navarro, is excited to give students more of an opportunity to benefit from campus resources. "Learning about leadership and earning cool prizes? Wow, the CLL is the place to be on campus," said Navarro.
Students can gain their second stamp by attending the CLL's Leader to Leader Speaker series with Sandy Holman this Tuesday, October 30. Holman's near thirty years of experience sharing her passion for social justice and educational equity will make this an event students will not want to miss. Visit the CLL Facebook page for more information and to share the event with other members of the UC Davis community!
The CLL offers multiple LEWS workshops per week throughout each quarter in order to better align with students' schedules. Visit the CLL webpage or social medias to find the LEWS workshop schedule and attend one today!
LEWS     Leader to Leader Speaker Series   CLL on Facebook